If you're here, it means you share my love for no-sew amigurumi patterns. And let me tell you, I'm absolutely addicted to all things amigurumi. But when I stumble upon a beautiful pattern that requires no sewing, I can't help but be amazed. It's like a double-wow moment!
Picture this: you're working on a beautiful amigurumi project, pouring your heart and soul into every stitch. But when it comes time to sew all the pieces together, you feel a little overwhelmed. That's where the magic of no-sew amigurumi comes in! It's like a breath of fresh air, a hassle-free approach that saves you time and stress.
I was once in your shoes, struggling to sew my amigurumi pieces together. But when I discovered the joy of no-sew techniques, it was a game-changer. It was like unlocking a whole new level of crochet bliss! That's why I occasionally create patterns that are not only cute but also super fast to make, with no sewing involved. In fact, the most you'll have to do is crochet a few pieces together along the way. How awesome is that?
This page is dedicated exclusively to this type of pattern—no-sew wonders! You'll find a mix of my own designs and other incredible amigurumi creators' work. Plus, these are free patterns! Double joy! Take your time, browse through the selection, and choose your favorite pattern to start crocheting right away.
Whether you're a seasoned crochet enthusiast, a beginner looking for a new project, or looking for a fast bestseller for your craft fair, these no-sew sea creatures amigurumi patterns will surely ignite your creativity and transport you to an underwater wonderland. Get your hooks ready!
Oh, and don't forget to save this page and come back often! I'll be constantly updating it with new patterns and ideas. Together, we'll explore the world of no-sew amigurumi and keep our crochet hooks happily busy. Let's embark on this creative journey and have a blast!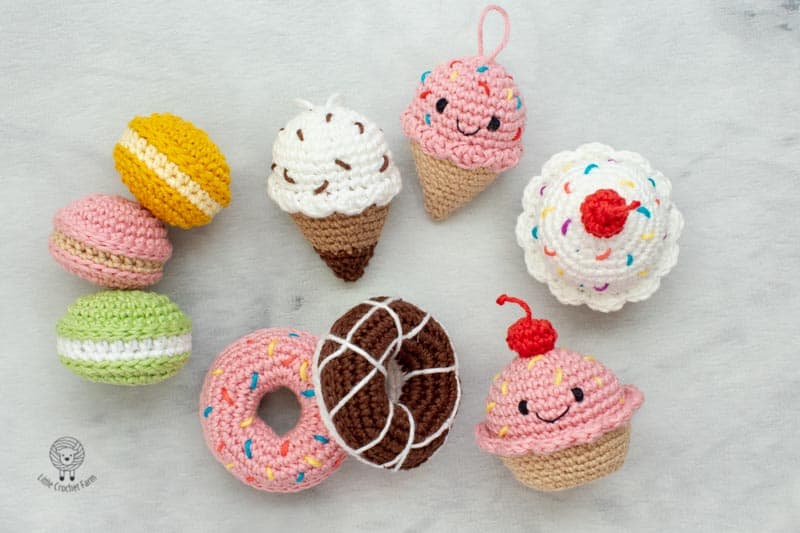 No-sew sea creatures amigurumi free patterns:
As a professional amigurumi expert, let me take you on a delightful underwater adventure with the enchanting world of no-sew sea creatures amigurumi patterns. Dive into the realm of crochet and bring the magic of the ocean to life with these captivating patterns. From adorable sea turtles to whimsical jellyfish. Make them cuddle big or tiny that can fit on your one hand! The possibilities are endless.
With no sewing required, you can enjoy the process of creating these sea-inspired amigurumi without the hassle. Immerse yourself in the joy of crocheting intricate details, all while crafting seamless and beautifully finished sea creatures.
No-sew play food amigurumi patterns:
Get ready to feast your eyes on a collection of adorable crochet creations that look good enough to eat! From juicy cupcakes to tasty treats, these patterns allow you to indulge in the joy of crafting play food without the need for sewing. With intricate details and lifelike designs, these amigurumi pieces will spark your imagination.
These no-sew play food patterns will satisfy your creative cravings. So grab your crochet hook and prepare to serve up some crocheted deliciousness that will delight both young and old. Let's embark on a culinary adventure and bring these scrumptious creations to life!
My TOP pick from other amazing designers!
---
Follow me on social!!!