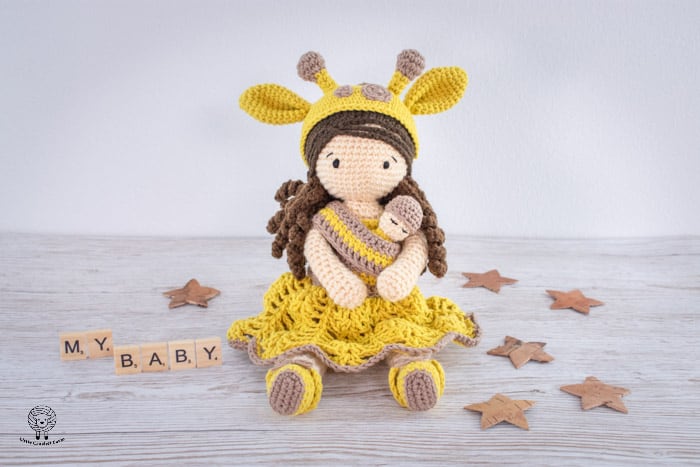 Mother Gigi – amigurumi doll pattern
Meet Gigi, the giraffe Mother doll crochet pattern. She is an beautiful doll who just gave birth to a incredible baby! Gigi always wraps her baby around her waist to keep it nice and warm!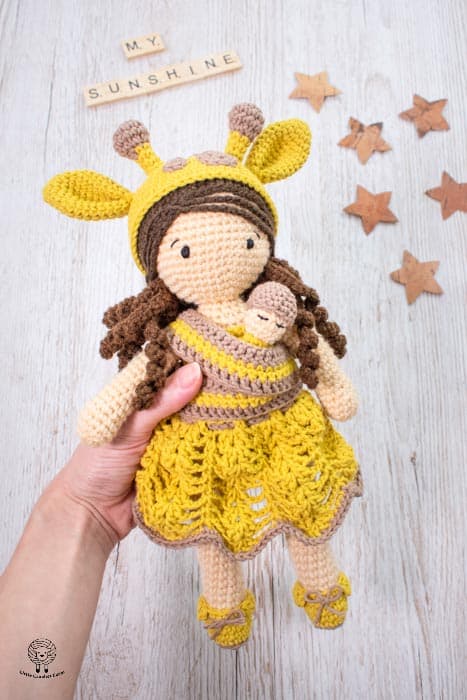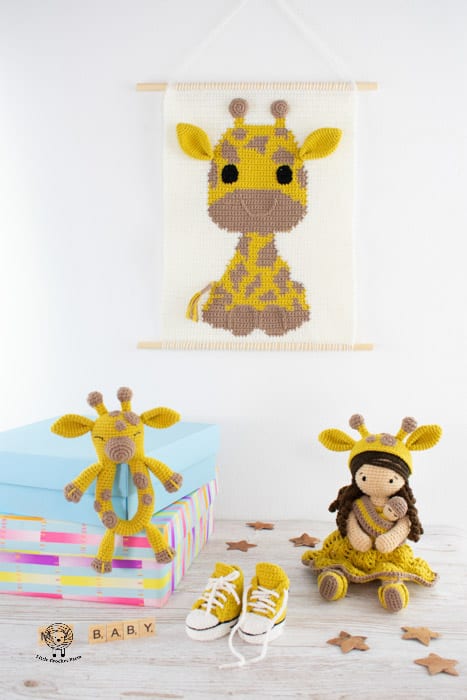 Gigi is an amigurumi mother doll that has removable items. With the PDF pattern, you can choose to make her dress removable or not. The shoes, baby wrap and hat are also removable! This way, you can enjoy more the crochet doll and use your imagination to play with it.
If following the PDF instructions and using a 3mm crochet hook, the finished size of this crochet doll will be around 30cm (12inc) high.
I used 100% acrylic yarn. But you can adapt the yarn of your preference as well as the colors you are going to work with! Give your personal touch and use your imagination to have the best doll created by yourself!
Gigi, the giraffe mother doll is available for purchase on Etsy along with more information you may need.
If you have any questions, feel free to contact me! I will be happy to help you finish your amigurumi doll!
—————————————————————
About the pattern:
This Amigurumi crochet toy pattern contains detailed instructions for each row and a lot of step by step pictures.
Instant PDF pattern download will be available immediately after the confirmation of the payment. You can see in the download link in the details of your order.,

The material used for this toy is lightweight wool, and the stuffing material is polyester hypoallergenic.
Additional information:
This amigurumi crochet pattern is for those who have basic crochet skills.
If you are a beginner, don't worry, this pattern has very clear instructions and step-by-step pictures that will help you to complete it.
And you have any questions regarding this pattern, get in contact with me! I will be happy to help you finish your amigurumi crochet toy!
Pin it for later!!!
---
---
You may also like:
---
Follow me on social!!!