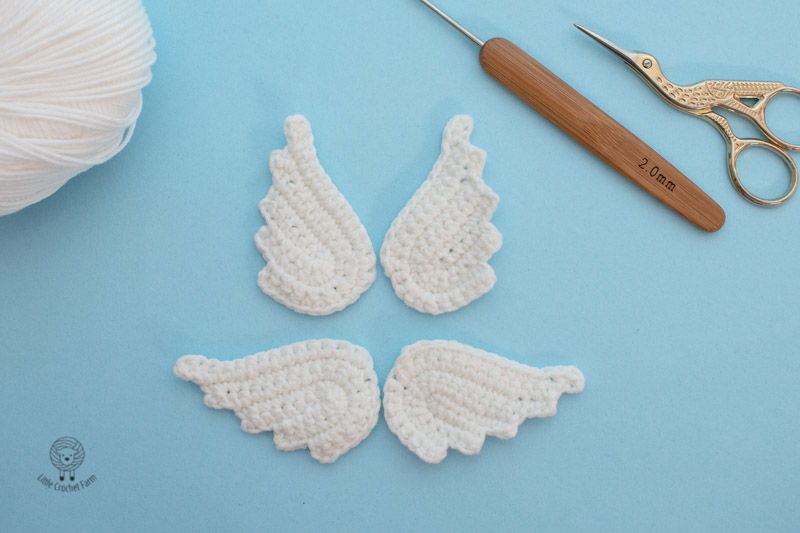 Beautiful crochet wings applique free pattern can be used for so many purposes! Enjoy this super easy crochet wings applique pattern and use your imagination!
As for me, I used this pattern to compose a couple of designs for Valentine's collection, like the Heart with Wings and the Cupid.
If you are in Valentine's mood or, just want to share your love, take a look at the other creations from this collection like the Love Bee, and the Love Cat. This last one is adorable and most loved by the crowd!
You can also take a look at the Chubby Love Bear, Romeo, and Juliet, and Yin & Yang heart free amigurumi patterns here on the website. They are lovely!
Hello there! My name is Ana! Welcome to Little crochet farm.
Here, I share my crochet creations around nursery décor, amigurumi and crochet toys for babies! Crochet tutorials, lessons, paid and free patterns you can find it all here!
If you wish for an add-free printable version of this pattern, you can find it in Ravelry here!
If you like video patterns, check out other options on my YouTube channel. There are a couple of crochet toys and stitch tutorials for amigurumi. I am updating every week with new creations there! Subscribe and leave me a thumbs up! It would make me super happy!
Take a look at other amigurumis you may like!
Before we start, I leave a link to all the stitches tutorials that might be useful to you. If you are a complete beginner or not familiar with some techniques, there is a blog post with step-by-step images with descriptions and video tutorials.
Pin it for later!!!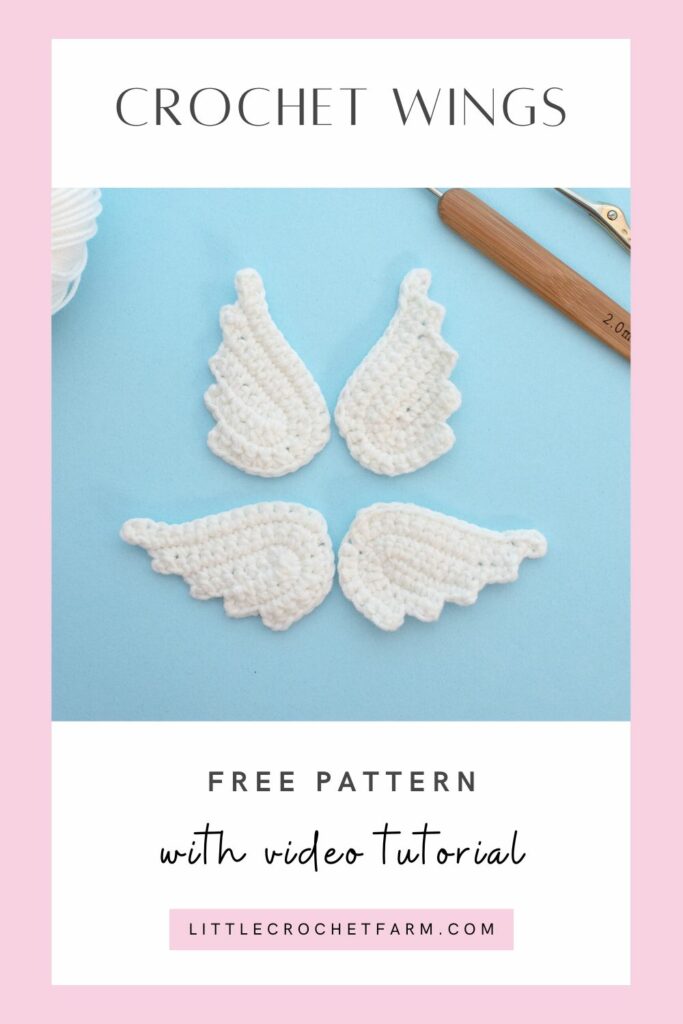 Get your Christmas Adventure now!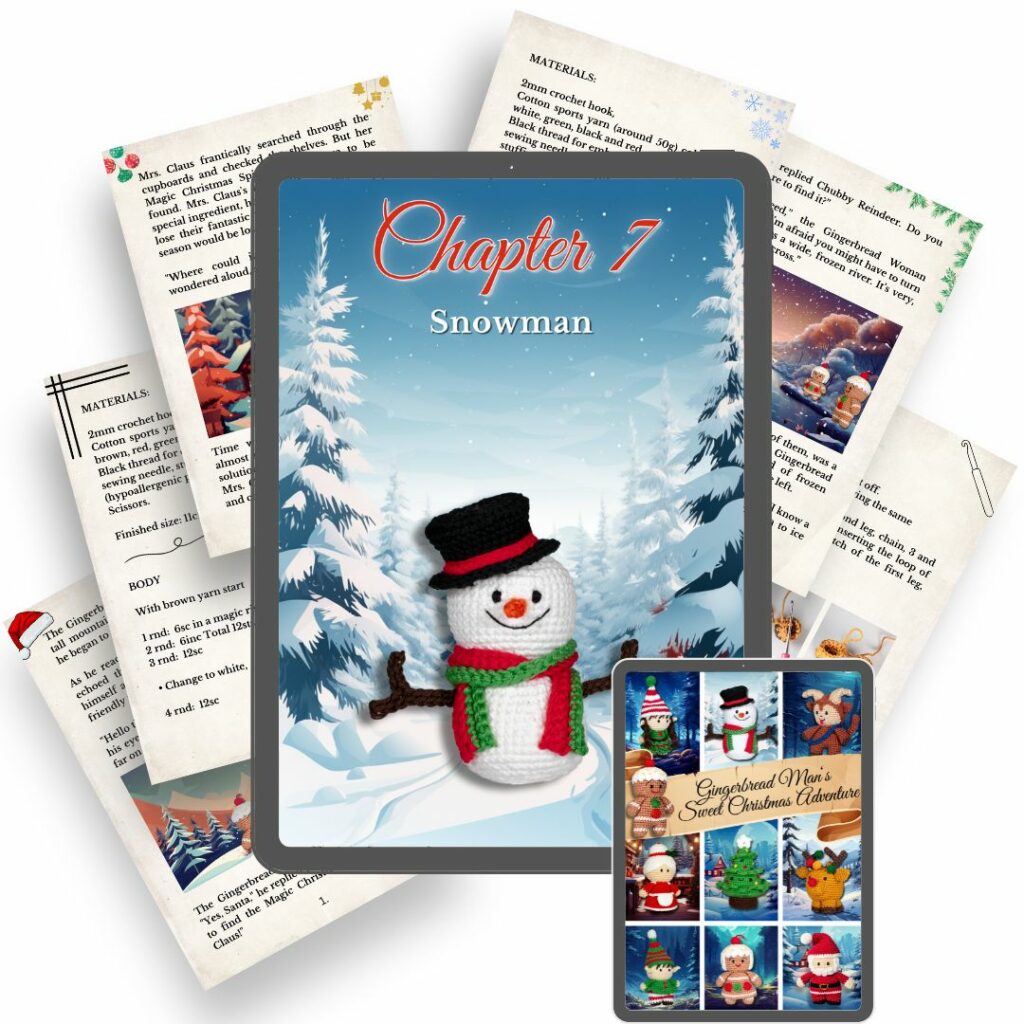 This isn't your regular crochet eBook; it's a magical world where stories meet crochet, where the characters come to life from your hands!
"Gingerbread Man's Sweet Christmas Adventure"(Our amigurumi fairy tale) transforms the amigurumi you crochet from realms of mere toys to lively characters twisted within an unforgettable story!
Take a look at 10 Christmas-themed amigurumi patterns and a delightful original Christmas tale!
---
---
Crochet Wings applique free pattern
Materials:
Finish size: 6 cm or 2,3 inches.
For a low cost, ad-free and printable pattern, you can find it in Ravelry here!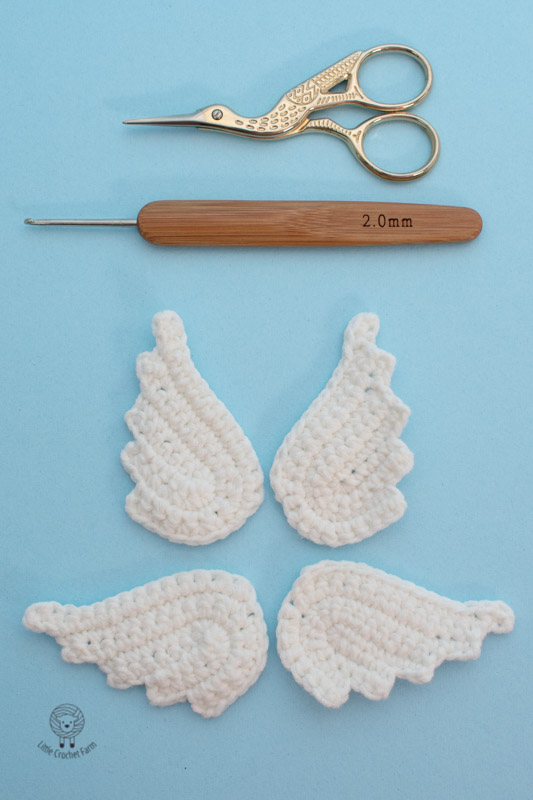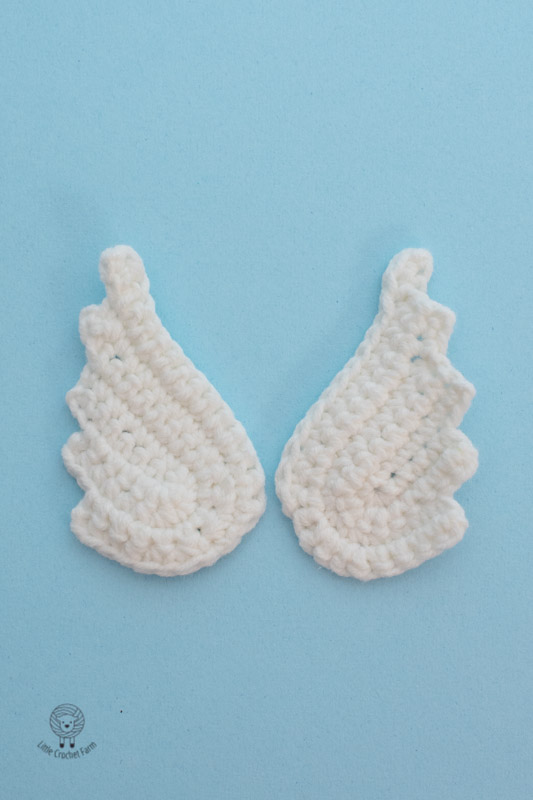 CROCHET WINGS
With white yarn chain 8. Skip the first chain and start,
1 row 6sc, 5sc in the last chain, continue working on the other side of the chain, 4sc. Leave the 2 sts unworked. Chain 1, turn.
2 row 5sc, 1inc, 1inc, 1inc, 7sc, chain 3, turn
3 row skip the first chain, 18sc. Leave the 2sts unworked. Chain 1, turn.
4 row 4sc, 1inc, 1inc, 1inc, 11sc. Chain 3, turn.
5 row skip the first chain, 14 sc, sl.
• Cut the yarn and fasten it off.
• Make another one following the same instructions.
• Leave a small tail for sewing it later.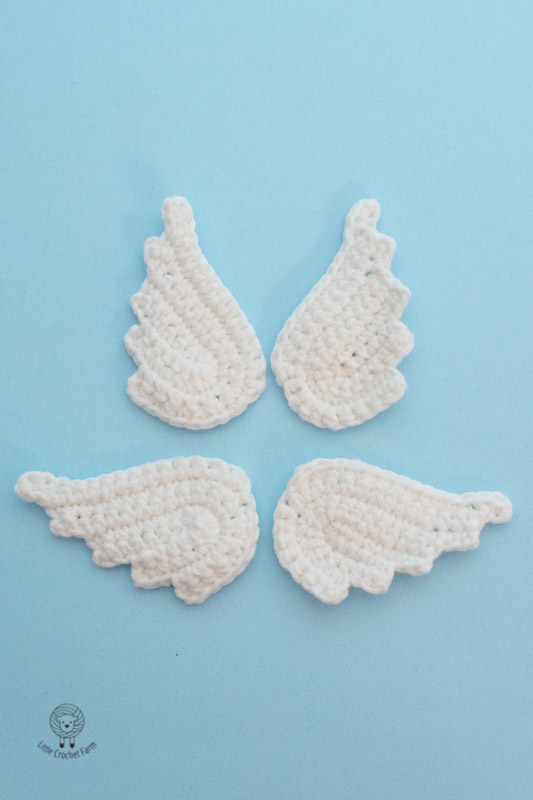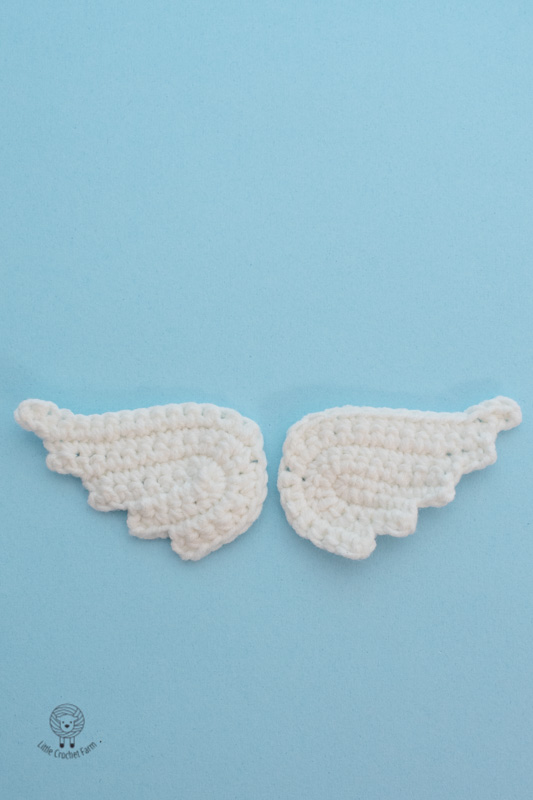 Congratulations!!!
Your wings applique is ready!
I hope you enjoy this pattern, and if you have any questions or comments in general, leave them in the comment box below.
If the Wings crochet pattern was clear and useful to you, consider subscribing to my YouTube channel. I schedule to add every week a new free pattern and a new stitch tutorial to help you learn a bit more about this crochet toys world!
I also will share here my Ravelry shop where you can find a bit more advanced crochet patterns. And, on Ravelry, there is available a low-cost printable version of these free patterns you can see here.
See you next time!
Love,
Ana
You may also like:
---
---
Follow me on social!!!